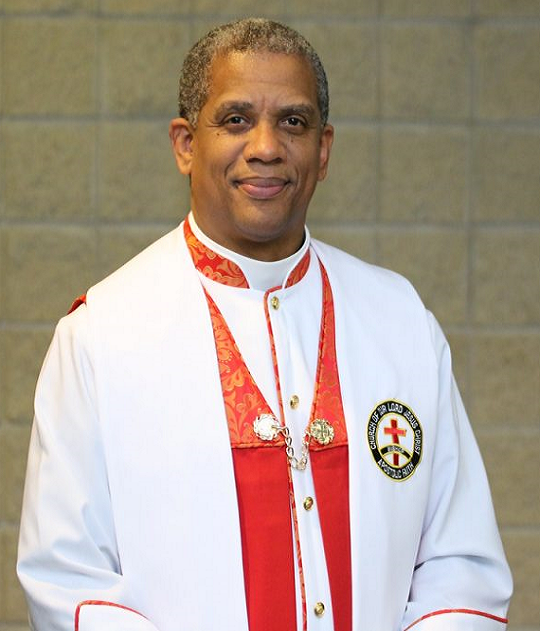 Pastor Horace C. Michael is the Senior Pastor of Beulah Tabernacle Church since the church's inception in 1985. Pastor Michael is a servant of the true and living God and worships him with all of his being. Pastor Michael is a servant leader to the body of Christ and puts into action "A Charge to Keep I Have and a God to Glorify".  Pastor  Michael honors his natural parents; Deacon Horace K. Michael and the late Sister Evadne L. Michael.  Pastor Michael is proud to be born into the spiritual lineage of Apostle Wilbur L. Jones and embraces Apostle Jones as his Father-in-the-Gospel and the founder of Beulah Tabernacle. Beulah Tabernacle is a chartered member church in the Church of Our Lord Jesus Christ of the Apostolic Faith, Inc. and Pastor Michael treasures the spiritual heritage received through this iconic Pentecostal Apostolic organization.
Pastor Michael has earned the rank of Eagle Scout and the Brotherhood Member status within the Order of The Arrow, the National Honor Society of the Boy Scouts of America. Pastor Michael was accepted into the prestigious United States Military Academy at West Point, however, the Lord had a different call and direction for his life, and called him to the office of the Ministry. Pastor Michael was equipped in education and prepared for ministry by graduating from New York University (1983), by also receiving his Bachelor of Theology degree (1986) and by being honored with the Doctor of Sacred Letters degree (1996) from Commonwealth University through the Apostolic Learning Center. Pastor Michael's career in Information Technology and eCommerce spans 3 decades and he is honored to have established a reputation of excellence and integrity.
Pastor Michael is married to his childhood sweetheart Tania Marie Jones for almost three decades and to their union was born three anointed and talented children, Horace, Sandra and Zoe. February 13, 2001, on the eve of Valentine's Day, Pastor and Lady Michael entered NY Presbyterian Hospital to undergo live saving kidney transplant surgery. God allowed the highly unlikely to be a miraculous reality in their lives. Pastor Michael was a (5 out of 6 point) near perfect match! Truly, theirs was a match made in heaven. This ultimate act of love would end Lady Michael's 5-year debilitating experience with dialysis and polycystic kidney disease.
Jesus is a healer and He heals all the time!
With a reputation of respected Christian character and demonstrated leadership skills, Pastor Michael was promoted to the position of District Elder in August 2000 in the Church of our Lord Jesus Christ; and faithfully worked alongside his Diocesan Bishop, Bishop Leroy Joseph, Sr. in the Brooklyn Diocese. Pastor Michael proudly and fervently serves in the Brooklyn Diocese as well as in Region II under the leadership of Regional Apostle Robert L. Sanders, former Presiding Apostle of COOLJC (2013-2016). In 2018, after a notable 21 years of distinguished service as Diocesan Bishop, Bishop Leroy Joseph, Sr. was honorably retired in grand style.  By God's grace, Pastor Michael was consecrated to the office of the Bishopric and humbly accepted the appointment as the new Diocesan Bishop of the Brooklyn Diocese.
In 2013, the Lord blessed Pastor Michael to minister to many families in the Rosedale/Valley Stream area of New York. Since December 2012 Pastor Michael has undertaken missionary travels to Guyana with a band of incredible missionaries to spread of the Gospel of Jesus Christ and strengthen spirit filled believers in that part of the world.  Many souls have been delivered from the bondage of sin through repentance, baptism in Jesus name and the infilling of the Holy Spirit.  The great news is that there is a tremendous zeal for God and a hunger for salvation.  The receptivity to the Gospel  is profoundly sincere and their thirst for more is insatiable!
Pastor Michael continues to labor diligently and faithfully with the help, strength and wisdom of God to be a faithful steward with all that God has entrusted into his hands. Pastor Michael preaches under the anointing and the same anointing causes him to strive for spiritual excellence and with a priority on the saving of souls, souls, and more souls. Pastor Michael under God's direction and authority produces excellence in the lives of believers under his leadership and emphasizes holiness, the blessings of a life of faith and the ultimate promise of heaven.
Pastor Michael is in God's hands and is experiencing the reality of God's greatness in the Kingdom of God and in his life, and preaching and serving with vigor and tenacity, for the same for those under his pastorate.
To God Be The Glory!