Everyone has a starting place and the ministry of Beulah Tabernacle is no different.  We are a proud extension of the incredible ministry of Apostle Wilbur L. Jones, Sr. and the rich Apostolic Pentecostal heritage obtained from the Church of Our Lord Jesus Christ of the Apostolic Faith, Inc. (COOLJC)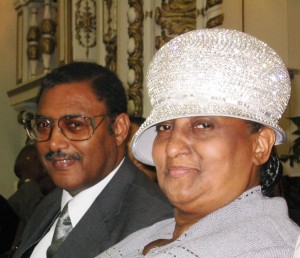 Apostle & Shepherd Mother Wilbur & Sandra Jones have tirelessly poured into the lives of thousands of believers around the world and we have been so blessed to have them as our Spiritual Parents.
Sunday after Sunday we feasted on the unadulterated and highly anointed preached word of the Lord coming from Apostle Jones.  So many of his sermons were also life changing lessons that resonate long after they've been delivered.  Who could forget the incredible sermon preached by this outstanding Apostolic icon at the Meadowlands Arena in 1989 for the Pentecostal Apostolic Fellowship Crusade?  It was there that the "children" of the late Bishop Robert Clarence Lawson (The Church of Our Lord Jesus Christ, Incorporated and The Bibleway Churches Worldwide) assembled themselves for this historic crusade.  As a prolific and anointed Bible teacher, he has opened the eyes of the eager and taught them how to walk in faith and spiritual power.  Apostle Jones insured that everyone who attended his classes learned how to walk by faith and not by sight.  His "Life In The Holy Spirit" classes were so spiritually enriching that students frequently repeated the class just for the sake of hearing God's word presented in such a way that you almost wanted to jump up and give God praise right in the classroom!!!
Shepherd Mother Sandra Jones is a true modern day Apostolic Mother.  She received the baptism of the Holy Spirit during a revival service run by the illustrious late Apostle Lymus L. Johnson. Mother Jones is a spiritual powerhouse and prayer warrior and has been a tremendous and endless source of inspiration, spiritual guidance and comfort for decades.  She has not only been a first class Apostolic Mother, but Mother Jones has also personally poured into the lives of many of her spiritual daughters who have become 1st Ladies themselves.  Mother Jones possesses an entrepreneurial spirit that typifies the Virtuous Woman of Proverbs 31.  This caring and nurturing woman of God who early on in life desired to pursue a secular nursing career has been nothing short of a Holy Ghost Florence Nightingale working miracles of restoration to many people who were heavily burdened in sicknesses and diseases as well as physical and emotional distress. Of her many gifts, Mother Jones certainly possesses the gift of hospitality, opening her home to visiting evangelists from around the country and pastors and their wives from around the world. Mother Jones' hopsitality is no way limited to ministerial dignitaries, as she has often hosted and cared for many people who spent time living right in her home.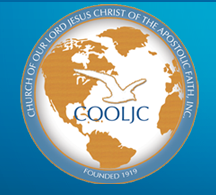 The Church of Our Lord Jesus Christ of the Apostolic Faith, Inc.   The Church of Our Lord Jesus Christ (COOLJC) was founded in the year 1919 by Bishop Robert C. Lawson, D.D., LL.D. Bishop Lawson in his lifetime was awarded many honors for his contributions as humanitarian and for his scholastic achievements. Among the honors, he received the Carver Merit Award for outstanding service to his race and country. He also held a Bachelor of Theology degree, a Doctor of Divinity degree, and a Doctor of Literary Letters Degree from the Lynchburg Seminary and College and the American Bible College.
In 1961, Bishop Lawson's death necessitated new leadership and it was then that the Board of Apostles was formed with Bishop Hubert J. Spencer, Bishop William Lee Bonner, and Bishop Maurice H. Hutner. Bishop Hubert J. Spencer was unanimously elected to preside. Bishop Bonner served as the third presider from 1973 to 1995. Apostle Bonner is now the Chief Apostle and pastors churches in Detroit, Michigan, New York City, Washington, D.C., Jackson, Mississippi, and Columbia, South Carolina. Under his administration, the organization has grown from 155 churches in 1961 to over 500 churches and missions throughout the world. Many great men have risen to serve as presider of this great organization and we continue to be blessed by anointed leadership with vision and integrity.