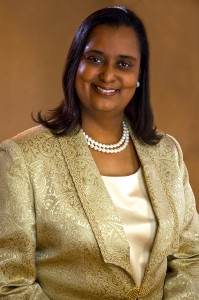 Lady Tania M. Michael is a native New Yorker who partners in ministry, with her husband; Dr. Horace C. Michael, for almost 3 decades. Lady Michael is a PK, has served the Lord Jesus since childhood and gives honor to her parents, Apostle and Mother Wilbur and Sandra Jones.
Over the years, Lady Michael has worked in a multitude of capacities, which have has impacted thousands. Lady Michael's religious preparation equips her for Christian service and she is presently a candidate for her Masters in Theological Studies. As a Licensed Master of Social Work, Lady Michael is sensitive to the needs of the people. She worked many years in the health field and hones her experiences and skills to build up the body of Christ, bring comfort to hurting people and advancement to the Kingdom of God.
1st Lady Michael has proven to hold on to her confession of faith in enduring polycystic kidney disease and a five-year battle with dialysis. During this test of faith her youngest child, Zoë was born 2 lbs 4oz, despite a recommendation of abortion and a gruesome 6 times a day dialysis schedule. To God Be The Glory! In the providence of God he saw fit to end the dialysis suffering with a kidney donated by her husband of then, 15 years. Not only were their blood types the same, but their tissue type was compatible and Pastor Michael was a near perfect match. Praise God!
Out of adversity is born triumph and Lady Michael's present mission includes spreading this story worldwide. To further perpetuate this mission she established Lady Tania Michael Ministries aka Hope Brings Peace, which has 501C3 status, by which, she produces concerts of songs she wrote and dramatizations of her story, where numerous hundreds of dialysis patients throughout the New York City area have attended free of charge.
Lady Michael has authored the books "Miracle Memoirs", "Basic Training: A Christian Manual For Spiritual Growth" and has co-authored with her daughter, Sandra, "Mothers and Daughters A Book of Poetry". The psalmist work of her CD entitled "Triumph Through Tribulation" was born out of her dialysis experience. Pastor and Lady Michael acknowledges the music and teaching gifting on their son, Horace's life, and submits their (3) children in Christ's developmental hands.
Lady Michael is a servant leader who loves people, and is humbled to walk with God and strives for him to say "Well done".